Personalized Silverware Holders

This Personalized Silverware Holders are a fun and original way to display your cutlery and make your tables and cutlery pop. Creating a perfect table setting that goes along and embraces your theme becomes an easy task with the help of these beauties.
With a  vineyard of leaf monogram design, this burlap or canvas holders are surely to win you over and create admiration for the setting from your guests.
DIY brides and planners love them for the easiness of use and elegant retro feeling.

If your wedding theme takes inspiration from a vintage, retro or winery theme, this original alternative to wow your guests is a must. They can be personalized with names, date and decorative touches. Or opt for the pre-printed "Eat, Drink, and be Married" version.
This creates a wonderful ambience for your very special day that you can cherish for the year s to come.
Personalized Silverware Holders for Your Wedding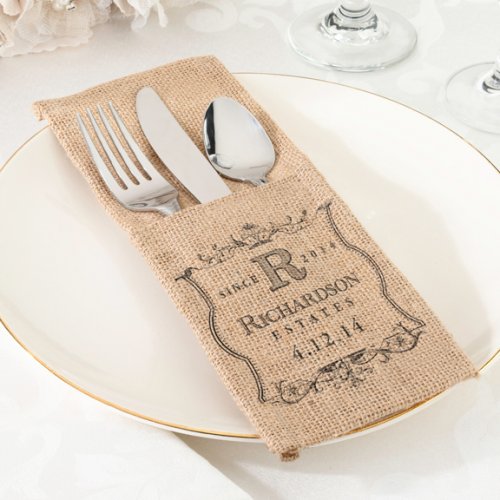 Personalized Silverware Holders
from: Beau-coup.com
Display them at your celebration on top of the plates or to the side if you decide to place a printed menu on top of the plates instead.
Product Specs
Dimensions: 9.75"L x 3.5"W 
Materials: burlap, cotton canvas
Contents: set of 4 holders
Ideal for any themed wedding including:
Retro
Glam
Boho
Vintage
Beach ( use shells to fill up the bottle)
Rustic ( use stones)
Classic
Elegant

and many more...

More Wedding Ideas