A Fairy Theme Wedding...
Cast a spell on your wedding day

A
fairy theme wedding
.
Do you love magic and mystery? Want an outdoor wedding surrounded by flowers and birds? Wouldn't you like to be transported to an enchanted land on your wedding day?
If so, this may be just the right theme for you. Brides have a fascination with fairies, their magic and love for nature.
Enchant your guests with this unique theme. Let's get started!

A Unique Invitation for a Unique Wedding

Like with every other wedding theme, the invitation will be the first item your guests will come in touch with. So you need to give them an impression of what's in store for them.
Fairies are magical creatures with a love for nature and a sense of royalty.
So if you want to go with an invitation with a flower or bird design, you will be within the theme.
But I think the best invitation will be one that will remind your guests of nature or royalty itself. Using a unique wedding scroll invitation or a simple invitation made of recycled paper in earth tones will be fine.
You can even buy the paper at and arts and crafts store and print them yourself. Use a font that resembles handwriting in neutral colors.

Setting the scene

I think the ideal place to have a fairy theme wedding is outdoors. A venue with a big garden, a butterfly sanctuary, a botanical garden or even your backyard will be perfect.
Have more than one flower girl and dress them with fairy wings
.
They could use fairy dust (glitter)
instead of the traditional rose petals. Another idea is to have them wear a crown of flowers and incorporate some silk flowers in their dresses.
Decide your color palette for your wedding. As this is a garden wedding, you could use pinks, lavenders and white. To accentuate these colors, you can add a touch of silver or gold.
Use ultrafine glitter
on your tables to resemble fairy dust.
You can use a flower arrangement for your centerpiece or fairy figurines.
A lovely idea is to have a colorful mushroom figurine with some glitter on it, which you can make. butterflies
, birds
, dragonflies
or lady bugs
from trees will create a whimsical scene.
Dressing the Part

Have a long satin dress if possible to fit the fairy theme wedding.
Carry a wedding bouquet made of wild flowers or big flowers; you want to give the impression that your flowers were just handpicked. If you like, you can mix some dragonflies or ladybugs in your bouquet.
Some brides like to wear a crown of flowers or some kind of flower-shaped hair accessory with their hair down. You can walk the aisle barefoot or wear some foot jewelry.
Wear a fairy garter. You can buy this or create one by adding a fairy charm to your garter set with hot glue.


Your Wedding Cake

A traditional tiered cake goes perfectly with the fairy theme wedding when decorated properly. Have a fairy wing design done over it, or use a fairy figurine as a cake topper.
A fairy cupcake tree is also great for this theme. Have the cupcakes decorated in different color frostings and add some fairy wings to them.
And for your guests...

You will find many favors to go with this fairy theme wedding.
Here are some ideas:
* Single rose soap favor box
* Lovely flower plant
* Flower Box Wedding Favor with Candy
* Personalized Mini Favor Candles with Pressed Flower & Matching Ribbon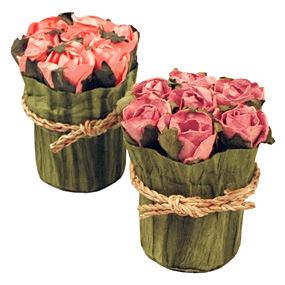 * Butterfly Garden Gift Baskets with Wildflower Seed Packets
* Butterfly Cookie Favor
* Personalized Candy Pillow Packs
You May Also Like

Return to Unique Wedding Themes
Return from Fairy Theme Wedding to Theme Wedding Ideas Home Page