Carnival Wedding Invitations
Carnival wedding invitations for celebrations allow couples to bring their personal signature to the event. A once in a lifetime celebration is shared with loved ones in different styles, formalities and colors.
But original, young, modern and hipster couples sometimes decide to have a unique celebration that will be the talk of town.

Circus inspired themes are full of fun, colors, quirky details and lots of homemade decorations that bring the couple's vision to life.  Through, games, balloons, parasols, and many other details the carnival theme is truly a fun celebration to plan and to attend.

And the first piece that your guests will see of what is to come, is no other than the wedding invitation.  Take a pic at these fun, unique and modern invites that will put the wow factor in your planning.

Striped backgrounds, big tents, ferris wheels, ticket like designs and other can help you bring extra special attention to your celebration.

Now a lot of wedding invite graphics include the always so loving and majestic elephant to bring that big circus theme and vision alive.

Vibrant colors or invitations with a vintage vibe are chosen by brides to start of as the inspiration for the party to come.

Take a look at these fun and adorable carnival wedding invitations and select one for your own celebration.

Fun Carnival Wedding Invitations
Nothing can be more colorful and vibrant than a carnival inspired event, so lively and fabulous. Have carnival details in your invites that your guest won't resist to look forward on your big day. 

The amazing and multicolored font is imprinted in a smooth matte paper creating a professional appeal.  A totally fun party is what awaits for everyone who will get involved in the occasion

---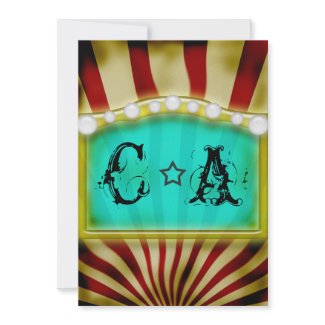 Vintage Circus Big top invitation
by
digikaty
View more
Invitations
Carnival and circus go hand in hand. Surprise everyone with this vintage circus top design. Your initials go in the front of the invitation, while your details and information are presented in the back.


---
Let your guests feel great receiving your wedding invites. An artistic Venetian mask is definitely classy. Printed in vintage faded background and vibrant green color to complete the look of carnival wedding invitations.

---
This vintage draper looking invite is modern and fun! This invitation fits for other wedding themes, not only a carnival or circus one. And with the mustache and lip design this is a unique invite surely to put your guests in the mood for the celebration to come.

---
A rainbow banner and  a ferris wheel design are a beautiful combination to use for your wedding invitations.

---
A ladies and Gentleman motif with a pinstripe back is the definition the modern vintage and a beautiful design for your retro or carnival theme wedding.


Return from Carnival Wedding Invitations to Creative Theme Wedding Ideas