Bird Theme Wedding
On the Wings of Love
A Fun and Unique Wedding Theme

This theme is not only beautiful, but also suitable for any season. If you are a nature lover and want an original theme, a bird theme just might be for you.
Birds have always been associated with love and nurturing. They are always represented in pairs, making them a great option for any wedding.

The best part is that no matter when or where you will be celebrating your wedding, and no matter what your colors are, you can always incorporate them to be the main theme of your event.

Let's take a look at some tips and ideas to create your own bird theme wedding.

Placing a bird or related theme item on top of the plates makes for a cute souvenir and place card holder.

For your centerpiece, you have many options as well. From a classy flower arrangement, enhanced with some small birds, to a topiary where you can place one or two bird decorations of your choice. Let your imagination run wild to create the look you want.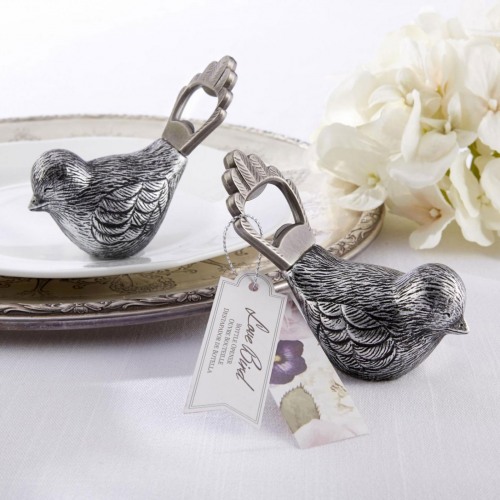 Antique Bird Bottle Opener
Some couples decide to give the bird theme a little spin having a fake bird nest as the centerpiece, or even a wreath decorated with a bird. The wreaths are great for centerpieces; they can act as the centerpiece by itself, or frame some other item, such as fake birds or candles.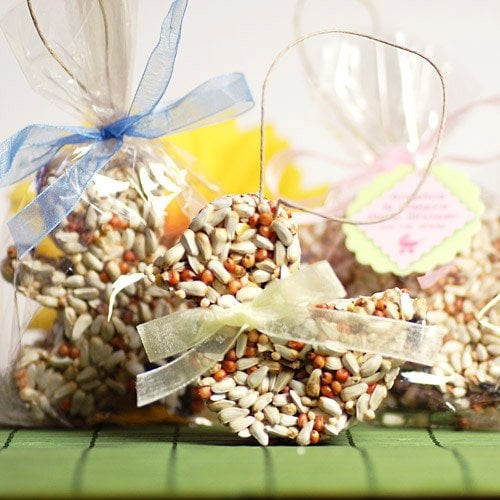 Bird Seed Party Favors
 Birds, colors, seasons and themes
There's a huge selection of fake birds that you can incorporate as part of your decorations. But such a huge selection makes it hard for you to choose, right?

Well there's a couple of ways that you can go about this. One way is to choose according to your wedding colors. For example, if you are having a purely white celebration, using white owls, peacocks and/or doves could be within your options.

Some brides like to have a multicolored palette instead. This is a usual practice for summer or garden weddings, where the colors make the decorations eye-catching. Some brides may have a particular love for peacocks, so they plan an entirely Peacock wedding.

Now that I mentioned summer weddings, you can also choose based on the season. Owls and turkeys are very popular for autumn weddings, while parrots and flamingos are popular for tropical, Caribbean wedding themes.

But what about having a romantic bird theme wedding, maybe one with a taste of fairytale enchantment to it? Think of bluebirds, swallows, blue jays, mountain bluebirds, swans, etc.

There are plenty of options available to give your bird theme wedding your personal signature, so choose wisely!

When you decide which bird you want to use, all you have to do is incorporate it as part of your setting and decorations. This is one of those themes where set up is easy, and wedding decorations should be as easy as 1-2-3.

If you want an original idea to set your table cards, you can use a Birdcage card holder to hang them at the entry of your reception hall.

One important thing to keep in mind is not to overdo it with your decorations. Believe me, it is very tempting to start placing the fake birds everywhere just to bring the theme to life, but don't fall into this tempting trap. If you use too many of them, your tables will become overcrowded. Moderation is key!

And don't forget to include the birds as part of your wedding cake design, and use ceramic or fake birds as cake toppers.

Photos courtesy
Design with Chon
 Bird Theme Wedding to Wedding Ideas