Beach Wedding Invitations
Home

›
Unique Wedding Invitations
›
Beach Wedding Invitations
Summer events are always surrounded by warm sunlight, breeze and tons of fun and graceful activities.
Summer events are known to have colorful settings, whether they are modern, fun or elegant.
Beach themes and weddings seem to invade the bridal world. Planning a beach theme is a very enjoyable task that many brides fall in love with implementing unique ideas to bring their vision to their day.

And here is where the invites play a tremendous role. Being the first taste that your guests will have of your nuptials and celebration, beach wedding invitations come in all sorts of shape sizes and designs.

Here are some of the best and original motifs in the market for your celebration's day.

Click on the images for product pricing and information

This exclusive design is one of our DIY wedding invitation kits collection. It features a pair of purple palm trees and it is also available in turquoise. If you are thinking of making your own invites, favor tags, menu cards, programs, save the dates or other stationery, this is the solution you are looking for.

.
Who wouldn't love a scenic beach event that not only is stress free  but also fun and free spirit.  Match your seashore celebration with a unique personalized invitation that is truly captivating and everyone will admire.

You can design it with pair of cute slippers which symbolizes you and your husband to be. You can also choose to personalize your design with a unique text for your design.


Beautifully created this invitation in the bottle is truly romantic and elegant.    Designed with lovely doves and  astonishing bright colored butterflies, it is just right for the wedding of your dreams.

These invites are truly a work of art. If you are a couple with an artistic side and celebrating a  beach theme, this design is perfect for you. 

You can even use the elements in the graphics as inspiration for your wedding decorations, cake, accessories, favors and table settings.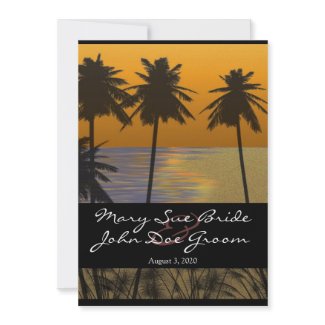 With a perfect sunrise or sunset, white sand, seashells and blue water, this is the ideal setting for a cool, passionate and fun celebration. 

The tropical beach invitations features a picture of palms, and the ocean reflections. This fits and matches your intimate and elegant beach theme concept.  

Bestow your guest a glimpse of your special day and let them be a part of the biggest event of your life. 


More Beach Theme Wedding Ideas
These Beach Wedding Invitations are lovely, now see hundreds of wedding themed ideas